Celebrity Pit Bull Lovers-Can You Guess Who?
|
Celebrity Pit Bull Lovers
1- Jessica Biel
— with her pet pit, Tina…who helps keep Jessica in shape walking and jogging around Hollywood.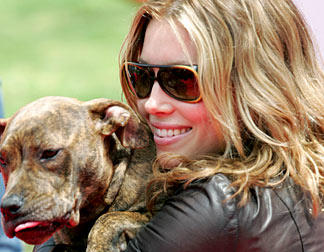 Napping is the BEST.

Here is Tina, deep in thought, maybe.
Photo Cred: Whosay.com
Tina in mom Jessica's arms
Photo Credit: www.sheknows.com
2- Tom Brady
–pictured here with wife and son strolling in Boston. His pit pet Lua hurt her paws on the snow/ice/salt so he put her in the stroller and let his son walk since he had boots on.
3- Jennifer Anniston
–w/Sophie who was adopted from the Best Friends Animal Society. (They are the agency who fought to keep Michael Vick's surviving dogs from being euthanized.
4- Rachel Rey
and her pit pet Isaboo who is master and commander at Rachel's home and after Rachel got married, nothing changed; Isaboo sleeps in bed with her master (right in the middle,) eats home cooked foods and everyone loves her.
Photo credit: rachaelray.com
5- Kelly Cuoco
–says pit bulls are the GREATEST DOGS IN THE WORLD.

Kelly is a huge pit bull advocate. She partnered with Angel City Pit Bulls to do a PSA, and says she is so proud of that.

Creative Kelly had a groom's cake customized with a tennis ball (of course) and their pit pets.

Photo credit: Self.com
Photo credit: Kaley Cuoco Facebook
6- Cesar Milan (The Dog Whisperer)
–pictured here with gray pup named Junior and Daddy (RIP). He is an expert in rehab'ing dogs and training people.